We're updating our European cup designs to comply with the EU Single Use Plastics Directive.
Discover your Vegware European cup region – blue (BL), yellow (YE) or green (GR). The European text must be in the local official language where the cup will be used. We have split Europe into three regions, use this map to find your region.
Switch to your new BL, YE or GR cup codes from June 2021. These changes only apply to cups, so keep using the same codes for all other Vegware products.
Download the factsheet that corresponds with your region to find your new cup codes.
The SUP Directive does not differentiate between conventional plastics and the bio-based compostable materials Vegware uses. That's why we have to update our cups designs to add the 'plastic' warning. Rest assured, there's no change to our products apart from the European design update. We still only use plant-based materials, not conventional plastics. All our cups are certified for commercial composting.
As well as the turtle and European text, we have enhanced our eco messaging:
Large visible 'compostable' text on all paper cups
QR code leads consumers to sustainability and waste info
Compostability certification logos added for trust and traceability
'Packaging made from plants' printed on all cups
Custom printing and the new European cups
Why not tailor the languages to your target market with custom printed cups? Our in-house specialists are on hand to ensure your custom products are both compliant and stylish.
We will not charge clients for adding the turtle graphic to existing designs. We can custom print most of our plant-based products. From logos to full artwork, our designers work with you to showcase your brand.
Double wall cups are a speciality: 1,000-cup minimum order | Ready in 5 weeks | Made in Ireland.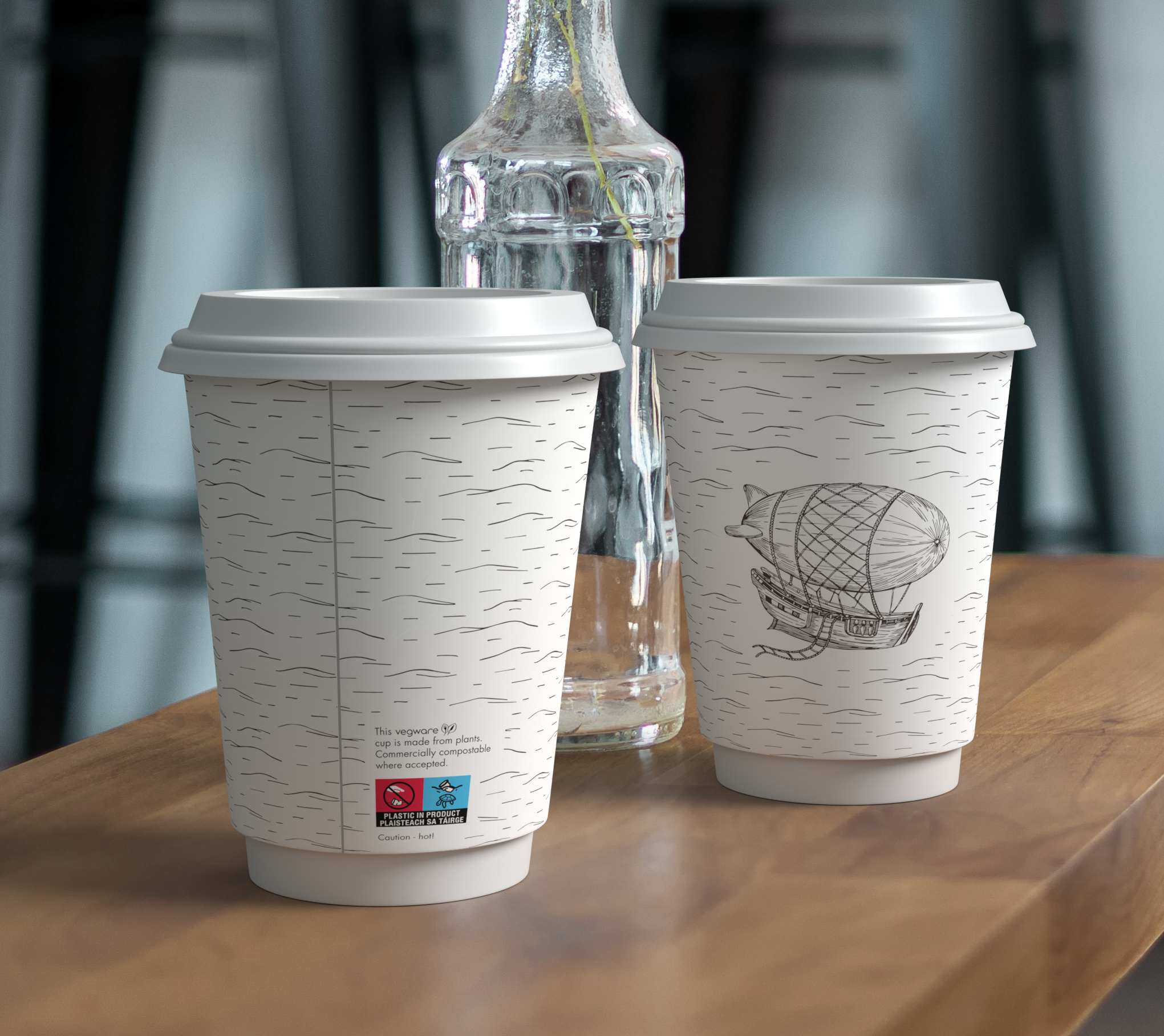 Looking for SUPD-compliant cutlery and straws?
Because the Single Use Plastics Directive does not differentiate between conventional plastics and Vegware's plant-based compostable materials, our EU clients need to switch to our wooden cutlery and quality paper straws.
Our wooden cutlery is sustainably sourced from renewable birchwood. Strong and sturdy enough to set into crunchy meals – hot or cold. And our paper straws are premium quality and food safe, keeping carbonated drinks fizzy for longer.
Contact sales.europe@vegware.co.uk to order!